Harnessing the clinical benefits of point-of-care scanning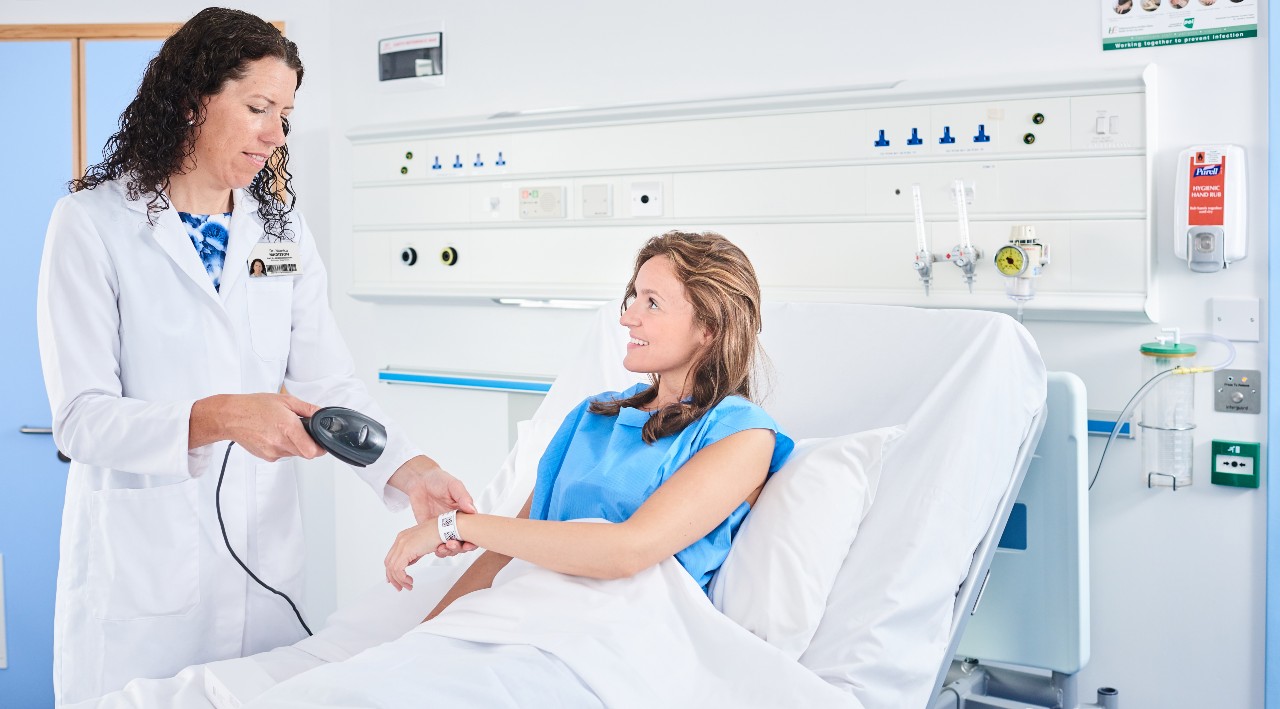 To make eObs and patient transfers safer and more efficient, Leeds introduced Scan4Safety to capture patient and location information at the point of care.
The Problem
The team at Leeds wanted to make their observations process more efficient and to reduce the risk of any manual data entry errors when it came to capturing and reporting results.
They wanted to ensure that results were updated in real time, directly into the patient record, and that they could reduce the time burden for routine tasks such as patient transfers.
The Solution
Starting with adult inpatient wards, Leeds began work on introducing GS1-compliant patient wristbands. These wristbands would use the GS1 unique identifier for people – the Global Service Relation Number (GSRN).
Wristband scanning was then made a mandatory part of the process for recording electronic observations (eObs) into the patient record with the data linked into the patient record in the trust's electronic health record (EHR) system, PPM+.
GS1 Global Location Numbers (GLNs) were also implemented to uniquely identify and track various ward or trust locations, enabling the trust to better track and trace a patient's whereabouts when transferred.
The Results
By scanning the patient wristband with the unique identifier at the point of care, staff were able to obtain an accurate positive patient ID before any clinical intervention. If ever an incorrect wristband was attempted to be scanned into a record, the wristband would fail preventing the risk of an unwarranted error.
With the GSRN and GLN implemented and associated to the corresponding patient record, the task of transferring patients was made much more efficient. By scanning the patient wristband and site GLN at the point of care or use, staff were able to update a patient's records in near real time.
This reduced the time taken to transfer a patient onto a ward from 10-15 minutes to less than two minutes. Plus the completion time for the admissions, discharge and transfers (ADT) process was reduced from taking up to 2.5 hours to complete, reduced to approximately 30 minutes.
Next steps
Following the successful roll out of electronic capture of paediatric advanced warning scores (ePAWS) for observations and transfers on the children's wards, the team continue to work towards completing the full project implementation.
The project team next plan to expand the use of the PPM+ software to theatres which is one of the main priorities following completion in the intensive care units (ICUs) and high dependency units (HDUs).
The full PDF can be found here, posted by GS1 in 2022